Continuing the Story, Supporting the Future
Our unique concept is designed to meet the individualized needs of those with Alzheimer's disease or other forms of dementia. Lyndale Abilene Memory Care further engages residents and enhances their comfort levels by providing a unique variation of a town center inside the community.

Memory Care residents especially enjoy our regular pet therapy sessions. This gives them the chance to bond with the animals.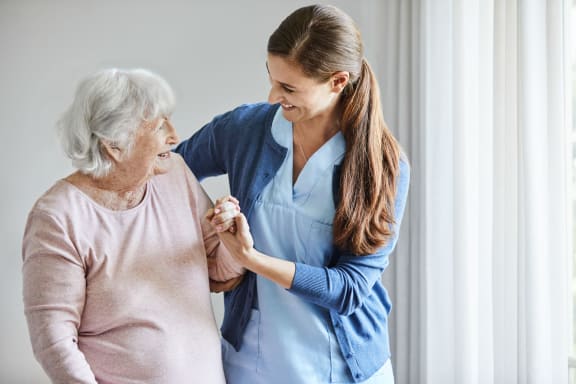 Quality care and personalized plans come together at Lyndale Abilene Memory Care to enhance lives and provide peace of mind to families and loved ones. Tour today and discover the Lyndale Abilene Difference!
See What our residents are saying
Lyndale Abilene Memory Care has been an absolute blessing to our family. It's tough to have to put a family member under someone else's care, but the people here really care about their residents and put our minds at ease. I don't have to worry whether mom is getting quality care or not. My mind is at ease knowing the facility is first class, the staff cares and they are very well trained in how to deal with the difficulties that come with memory care. It is a tough job, and I'm grateful to have such a wonderful facility as Lyndale, in Abilene.
- Family Member
My mother lived in Abilene for 40 years. When we had to find her a place to live safely, she wanted to stay in Abilene. We live far away and could not find any place, anywhere, like Lyndale. It is unique. It is beautiful and has wonderful staff that really understand the issues and behaviors that go with memory care. They also provide great activities that add to a great quality of life. They are so caring! I would recommend Lyndale Memory care for anyone! I would rather make the long drive to see her, than to have her anywhere else.
- Family Member
Lyndale Abilene met us at the door with love, compassion and expertise. I visit my dad almost every day and am able to love on him, hold his hand and walk with him and give him the TLC and emotional care that is the love of family. Lyndale provides us with a lovely home environment for him with so much space both indoors and outside. Delicious meals are served daily and I can rest assured that he is in the best of hands when I'm not there.
- Family Member
I am so thankful to Lyndale Memory Care for always looking out for what is best for my mom and for all of the residents. The activities and care they provide are exceptional. The family functions are always a blast, especially seeing your loved one with their new friends who they are socializing with. The facility is beautiful and the residents love being there.
- Family Member